L.A. Casey was born, raised and currently resides in Dublin, Ireland. She is a twenty two year old stay at home mother to an almost two year old German Shepherd named Storm and of course, her four and half year old (the half is apparently vital) beautiful little hellion/angel depending on the hour of the day.


Her first novel, Dominic, was released on March 17th, 2014, and on March 21st, 2014, it became an international Amazon bestseller.

The Slater Brother Series
Domininc Slater Brothers 1
Synopsis
After a car accident killed her parents when she was a child, Bronagh Murphy chose to box herself off from people in an effort to keep herself from future hurt. If she doesn't befriend people, talk to them or acknowledge them in any way they leave her alone just like she wants. When Dominic Slater enters her life, ignoring him is all she has to do to get his attention. Dominic is used to attention, and when he and his brothers move to Dublin, Ireland for family business, he gets nothing but attention. Attention from everyone except the beautiful brunette with a sharp tongue. Dominic wants Bronagh and the only way he can get to her, is by dragging her from the boxed off corner she has herself trapped in the only way he knows how...by force. Dominic wants her, and what Dominic wants, Dominic gets
Teaser
Review
I

bought this book firstly because I was drawn to the cover. It was very eye catching and very hot. The blurb sounded good, so I thought I'd take a chance on a new author. Boy am I glad I did. Dominic is funny, hot, great story line, great characters and brilliant writing. I was hooked in within the first few pages and didn't put it down until I'd finished.
Bronagh Murphy hasn't had a great start to her life. Her parents were killed in a car accident when she was young. She doesn't like to get close to anybody because she doesn't ever want to go through the pain of losing anybody ever again. She doesn't talk to people, acknowledge them or befriend anybody. She's completed isolated and that's the way she wants it to stay. That is until Dominic Slater moves to Dublin. he's used to getting what he wants and is used to getting loads of attention from everybody. When he sees Bronagh he expects her to notice him and give him the attention he is used to. When this doesn't happen he does the only thing he knows how to do...force her to like him and be in his life. Bronagh puts up a good fight and tries to stay far away from him, but what Dominic wants, Dominic gets!
Bronagh is a very easy character to like and easy to relate too. People suffer losses all throughout there lives, so you could see why after suffering such a Hugh loss she doesn't want to ever get hurt again. Bronagh is very bad ass and doesn't just lie down and follow Dominic's orders. She stands up for herself and fights to protect herself. She defiantly makes Dominic work for her. I loved seeing Bronagh open up more in the book as she starts having feeling for Dominic. Watching her learning to allow herself to get close to somebody was a real journey. It wasn't easy for her, but with Dominic's Personality he really helped her learn to let people in.
Dominic is a Alpha male who wants everything his own way and is possessive over what he thinks is his. He wasn't the easiest character to like at the start of the book because he was horrible to Bronagh quite a lot of the time. He wouldn't take no for an answer and he pushed and pushed her, but in a very unkind way. I could see why he was treating her that way. He liked her so much and these feelings were new to him so he didn't no how to act. His alpha, possessive ways did work eventually and I did end up falling madly in love with Dominic. He had a bad start but he always looked after Bronagh, he caught for her and loved her more than anybody ever has done before.
In the book you get to meet Dominic's brothers and you get a little insight in to their lives and personalities. This is brilliant because every brother is having a book, so getting a it of background on them all right from the start is great.
The story did have a lot if sexual tension between the 2 main characters. The game playing and fighting against the feelings went on for a good length of time. They didn't just fall in to bed with each other and live happily ever after. The build up was perfectly wrote and a perfect length.
The characters are at school in the book. Bronagh acted like her age and I didn't think that at any point she was older or younger than she was meant to be. Dominic however came across a lot older in my opinion. I forget a lot of the time that he was meant to be at school because he was more mature and acted more like a adult with regards go his possessiveness.
I'm so glad I took a chance on this book. I loved everything about it. I'm looking forward to the rest of the Slater Brothers books in the future and catching up with the old characters. - Kim
Buy Links
Bronage Slater Brothers 1.5
Synopsis
Bronagh Murphy has been through a lot over the past few years, a hell of a lot, so when her 21st birthday rolls around all she wants to do is relax and spend the day with her family. Quietly.

Her boyfriend, Dominic Slater, doesn't do relaxed or quiet. He never has, and he never will. He plans out a day for Bronagh that is both romantic, and exciting. However, Dominic's version of exciting is very different to Bronagh's as she will soon find out.

When things take a turn for the worst, and a bad altercation leaves Dominic once again fighting for his girl, Bronagh will have to decide once and for all if she will fight in Dominic's corner or walk away and never look back.

Bronagh loves Dominic, and what Bronagh loves, Bronagh protects.
Review
4.5 Stars
Bronagh is a Slater Brother Novella. Bronagh was Dominic's love interest in "Dominic." You need to read Dominic before you read Bronagh.
I loved l.A Casey's first book "Dominic" Bronagh was a very lovely character who had been suffered a Hugh loss at a very early age. She met Dominic who helped heal her and they fell in love.
I was really looking forward to reading this novella and spending some more time with them both characters.
Bronagh's 21st Birthday is coming up. She wants a quiet birthday where she can just relax and spend a quiet day with her family. Dominic however has other plans. He isn't one to like quiet or relaxed so he plans a romantic and exciting day for her to celebrate her birthday. However Dominic's idea of romantic and exciting are not the same as Bronagh's ideas. The day doesn't go to plan...could this be the end of Dominic and Bronagh?
I loved Dominic and Bronagh just as much as I did in their first book, maybe even a little bit more, the story was short and sweet and packed a great punch. The banter and witty ness through out was excellent and I found myself laughing a lot throughout the story. The book had a little tension throughout and kept you wondering if they would both fight for their relationship or break away from each other for good.
I loved catching up with the characters and this novella has got me 100% ready for "Alec" to be released. I'm looking forward to reading more from L.A Casey as her writing style is very good. I love the humour she incorporates in her stories and the drama. Another great read.....BRING ON ALEC! - Kim
Buy Links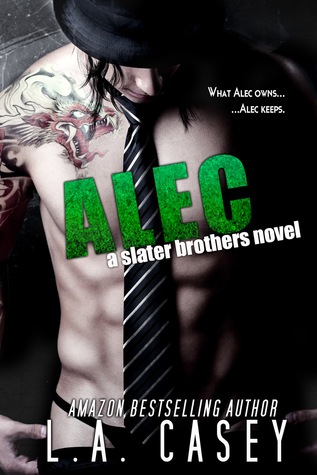 Synopsis
Keela Daley is the black sheep of her family. She has always come second to her younger cousin Micah. Even in the eyes of her mother, Micah shone bright, and Keela faded to black. Now, in adulthood, Micah is a bride-to-be and the spotlight is solely on her. Keela is a low priority...or so she thinks.

Alec Slater is a bachelor, never one to bed the same woman, or man, twice. He is a free agent who does what he pleases and answers to no one; that is until a fiery Irish redhead with a temper to match her hair colour knocks him on his arse. Literally.

She hates to admit it, but Keela needs a favour from the cocky Slater brother, a huge favour. She needs him to not only escort her to Micah's wedding, but to also pose as her boyfriend. Alec agrees to help Keela, but has certain conditions for her to abide by. He wants her body and plans to have it before anyone can say I do.

What he doesn't plan on is losing his heart as well as the possibility of losing his family when someone from his past threatens his future.

Alec owns Keela, and what Alec owns, Alec keeps.
Alec is book 2 in the Slater Brothers series. You don't need to have read the first book, Dominic or the novella, Bronagh before Alec, but I would recommend you do so because you get a background of Alec and all the other brothers in the first books.
I loved Alec just as much as I loved the other books in the series. L.A Casey is a great writer who creates amazingly witty characters which will have you laughing out loud throughout her books.
Alec Slater is a bachelor. He will never bed the same woman, or man twice. He likes to do what he pleases and answers to know one. That is until he meets Keela.
Keela needs a huge favour from the cocky Alec. She needs him to pose as her boyfriend and escort her to a wedding. Alec agrees but has a condition. He wants her body in return.
Alec and Keela are both very good characters. They are both very easy to connect to and the story line is interesting.
Keela has a lot of vulnerability about her, but she is also very feisty and witty. She has a great way to save herself in bad situations by using her wit and smart mouth. I absolutely loved her character and I especially loved how Keela could put Alec in his place. She was level headed and handled finding out Alec was bi sexual very well.
Alec is drop dead gorgeous. He is now my new book boyfriend. He's smoking hot, charming, crude, cocky and possessive, but also loving and caring and sensitive. Alec has a hint of insecurity that you get to see every now and then. It was lovely to have a slight break from his alpha side every now and again and see his sweeter side. Alec really gets himself under Keela's skin and tempers fly often between them.
The story was brilliant from start to finish. I loved the characters instantly and I read the book in one sitting. I couldn't put it down.
Another huge success for L.A Casey. I can't wait until Kane is released.
I don't think I could love Alec more than I loved Dominic, but I do. They're both very similar in some ways but completely different in other ways. You get to see more of all the Slater Brothers throughout the book. Which I loved. I love seeing them and getting a picture in my head of who they are and what t
h
ey look like. I can't get enough of the Slater Brothers. - Kim
Kane. Slater Brother #3
Ryder. Slater Brothers #4
Damien. Slater Brothers #5
The Slater Brothers. Slater Brothers #6
1..What is the hardest/easiest thing about writing?
The hardest about writing, for me, is staying focused. The interest is my biggest downfall for distracting me. The easiest thing, for me, is getting what is in my head on my laptop screen without having writers block.
2..What inspired/inspires you to write?
What inspires me to write are the characters in my head, they want their stories to be told.
3..Are your characters based on people you know?
No, they are not, but some of the characters will have personalities similar to people I know.
4..When you write do you outline ahead of time?
Yes, I LOVE outline. They keep me on track, and sane.
5..Do you get writers block? If so how do you get past it?
Luckily I don't, and fingers crossed I won't.
6..What are your thoughts on good/bad reviews?
I love they both. Obviously I like the positive ones more, but the bad ones are good too once they carry constructive criticism.
7..What book will you be working on next?
The next book I will be working on is the #2.5 book in my series Slater Brothers.
8..What is your biggest success/regret?
In writing, my biggest success was be Dominic making the Amazon top 100, and become a bestseller on that site.
9..Which actor/actress do you see playing Dominic and Bronagh?
Hmmmm. That's hard because I have seen anyone who fits what the look like in my head.
10..If you could attend a dinner party with 3 authors, dead or alive who would you choose and why?
Yessi Smith: One of my best friends
Lorelei James: I adore her work, and would stare at her until ever got uncomfortable.
J.R.R Tolkien: The man was the master of my favourite book, and film series. Enough said.
11..What is your favourite book and why?
Impossible question to answer. I have so many.
12..Do you listen to music when you write? If so what ?
I don't. I listen to a song then I write. I can't listen while I write because my mind drifts elsewhere.
13..Whose your celeb crush?
14..What advice would you give your younger self?
I would through a laptop in my face and stress that writing is something I can do for a living if I work for it.
15..Where do you see yourself in 5 years?
15: I hope to have the Slater Brothers series fully complete and hopefully have another series tucked under my belt. I just hope I'm happy.
2. Paperback/E Reader
E Reader
3. Facebook/Twitter
Facebook
7. Justin Timberlake/Adam Levine
Justin Timberlake
11. Halloween/Christmas
Christmas
13. McDonald's/Burger King
McDonalds
14. Harry Potter/Lord of the Rings
Lord of the Rings
15. Batman/Spiderman
Spiderman